Welcome to Santo Bloom Suites in Santorini
Santo Bloom is located in the picturesque village of Vothonas, which is at the center of the island, almost 5 kilometers southeast of the capital Fira, very close to Messaria village. Our suites stand out with their attention-to-detail decoration in Cycladic white-washed style minimally designed and equipped with high-end amenities to ensure freedom and luxury.
Quality Services & Amenities
We have given all our effort to offer the most complete services and amenities that will make your stay as smooth and comfortable as if our Suites were your regular home. There is a list of all the necessary services available, while each Villa includes all the equipment to let you enjoy your stay without limitations.
An exciting splash in the pool! Both Suites of Santo Bloom feature their own personal, private pool with sunbeds and umbrellas. Feel free to enjoy tones of splashes in the refreshed waters having a carefree time with your beloved ones!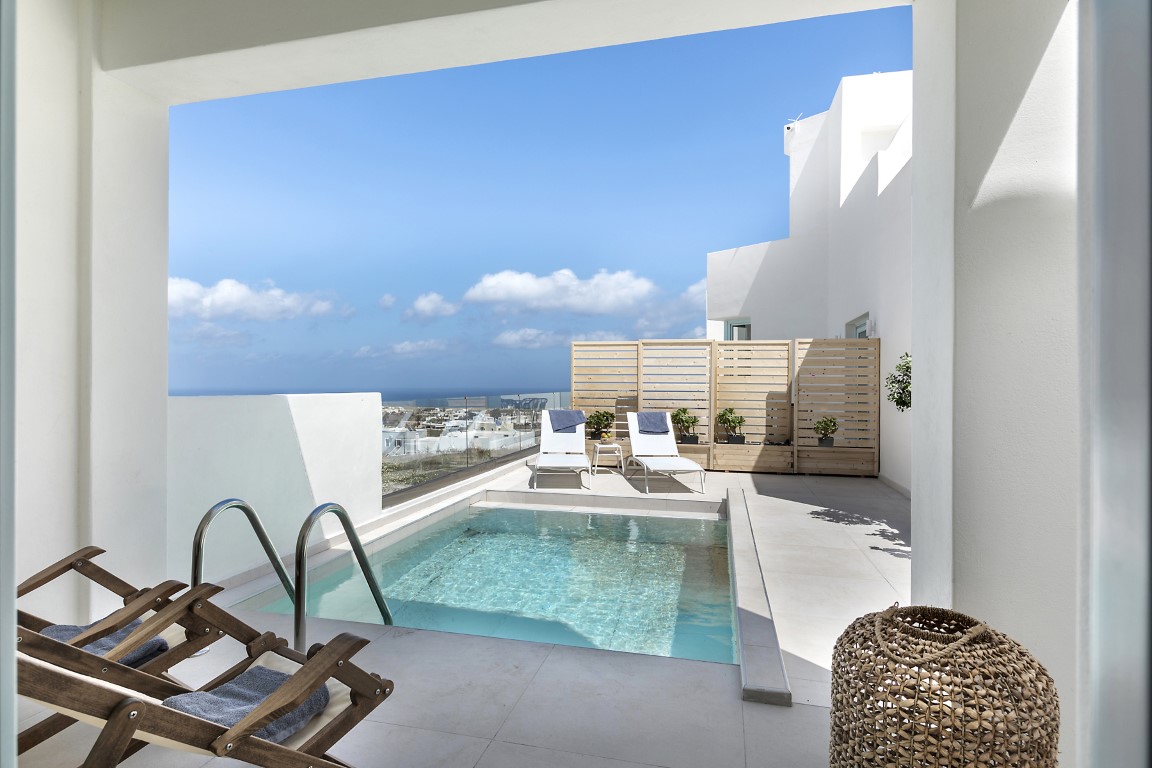 Vothonas village is built in a steep gorge and it captures the eye with its unique, natural architecture. The majority of the dwellings are cave houses built by the villagers carving the volcanic rocks. A sense of serenity and privacy pervades the whole village and protects the privacy of its guests. Except for the natural beauty of the location, the incredible location, and the picturesque houses with the traditional architecture, there are also plenty of sightseeing highlights in Vothonas you must not miss! Several noticeable churches centuries-old and chapels in Vothonas are more than worth visiting, as well as the famous Wine Museum which is situated 6 meters below ground in a fantastic cave. Not to mention that the village is in an advantageous location because some of the most popular beaches of Santorini are only a couple of minutes away!
Nearest Beach – Kamari beach: …5…km
Black Beach (Perivolos Beach): …10..km
Oia Village: …17…km
Akrotiri Archaeological Site: 10 km
Nearest Winery: 1.2 km
Super Market: …350..m
Mini Market: …300…m
Fira town :…3,50….km
Port: 7 km
Airport: …3….km
Bank: …3….km
ATM: …650..m
Restaurant: …240…m
Pharmacy: …700…m
Hospital: …2…km